The best wireless speaker in the world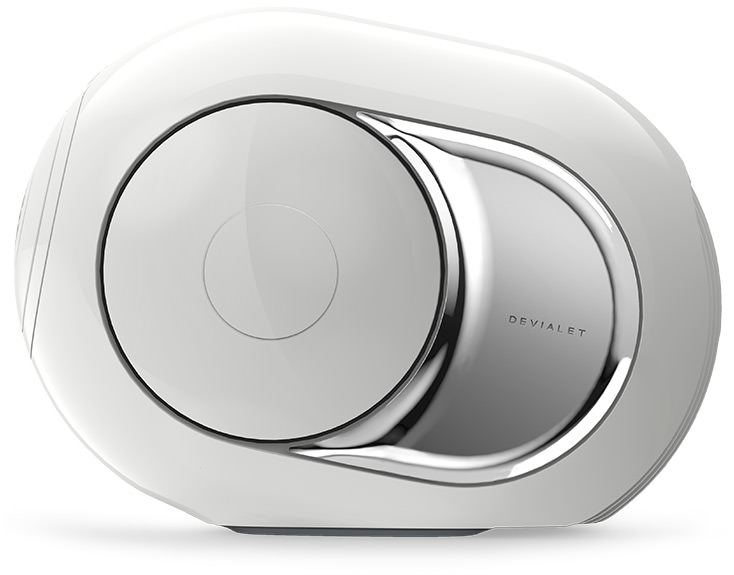 PHANTOM
For the first time, experience ultra-dense sound with physical impact.
A power, clarity, and preciseness unlike anything you have ever heard before.
Phantom is unique. More than a connected speaker, Phantom emits sound using a revolutionary and inherently superior process created by Devialet engineers: Patented Devialet inventions ADH and HBI.
Inventions patented by Devialet ADH® and HBI®.
Invented and made in France, protected by 108 patents, Phantom forever changes the world of sound.
PHANTOM
SILVER PHANTOM
GOLD PHANTOM

Performance

Sound Pressure Level
99 dB SPL at 1 meter
105 dB SPL at 1 meter
108 dB SPL at 1 meter
Amplification Power
750 W peak
3000 W peak
4500 W peak
Amplifiaction Performances
Total Harmonics Distortion + Noise
0,001%
0,0005%
Saturation
0
0
Backround Noise
0,5 dB SPL at 3m
0 dB SPL at 50cm (-15 dB at 3m)
Acoustical Performance
Bandwith
16 Hz to 25 kHz (@ -6 dB)
14 Hz to 27 kHz (@ -6 dB)
Accuracy frequency response
± 2 dB from 20 Hz to 20 kHz
± 2 dB from 20 Hz to 20 kHz
Characteristics
Loudspeakers
Aluminium Tweeter driver
Titanium grade 1 Tweeter driver
Aluminium Medium driver
Aluminium Medium driver
Aluminium Bass driver
Aluminium Bass driver
Digital to Analog Converter
Texas Instruments PCM1798
Devialet DAC
24bits/192kHz
24bits/192kHz
THD: -106 dB
THD: -112 dB
Processor

ARM Cortex-A9 MPCore 800MHz dual-core processor, hard IP, and FPGA in a unique System-On-Chip (SoC) Cyclone V, 512MB DDR3 memory

Materials

Composite body, Internal skin: glass fiber filled polycarbonate, External skin: ABS, Aluminium central core

Colors and Finish
Body
White RAL 9016
White RAL 9016
White RAL 9016
Sides
Polished stainless steel
Sand-blasted stainless steel
22-carat rose gold-plated
Dome drivers
White RAL 9016
Silver
White RAL 9016
Measurements
Size
Width: 253 mm · Height: 255 mm · Depth : 343 mm
Weight
11,4 kg
Power
IEC 90-240 V~50/60Hz